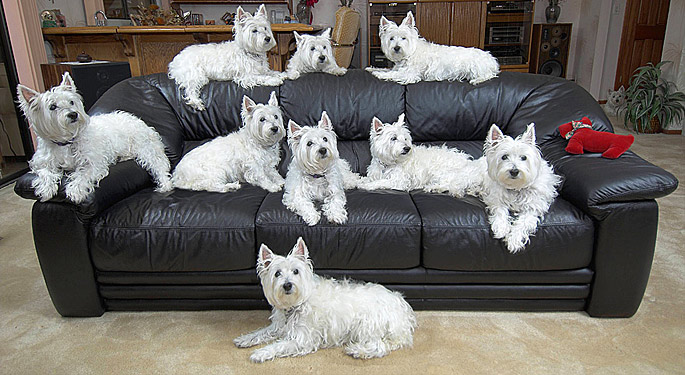 When you own a terrier (or two), it often seems like
ten
canine cyclones are competing for your attention. This is our Westie (West Highland Terrier) Katy, lounging about in a rare moment of calm.
Well, of course, it's actually TEN Katys (look carefully) in a Photoshop composite I created a few years ago. The process is actually quite simple, but requires careful preparation for best results.
The camera was secured on a tripod and set to manual focus and exposure, then multiple photos were taken (lit by 2 remote strobes) with Katy placed in a different position for each shot.
The images were then layered in Photoshop and in all but the bottom layer each Katy was clipped out and the background removed. Judicious selection, exact registration, and proper feathering around each layer makes it virtually impossible to detect which is the "actual" original shot with only one terrier present, even in the final 13" x 19" print.
The trickiest part of the process is getting a natural look where parts of one Katy overlay another. Oh, getting the model to cooperate and sit still was also a bit tricky